PETIT ALBUM PERSONNEL
_________________________________________________
sous-titre:
La Grèce que j'aime

Chapelle à Aegosthène/
chapel in Aegosthenes


Le regard de l'aurige/
The eyes of the coachman


En baie de Corfou/
Sunset on the Corfou bay


Le Christ de Daphni/
Daphni's Christ in majesty


Petit port à Lesbos/
Little harbour in Lesbos


La chapelle rupestre de Didyma/
Cliff chapel in Didyma


Aqueduc romain à Lesbos/
Roman aqueduct in Lesbos


Sic transit Gloria Mundi


Drôle de petite maison ! /
A strange little house !


L'Hermès de Praxitèle (Olympie)
Praxitele's Hermes (Olympia)


En baie d'Igoumenitsa/
In the Igoumenitsa Bay


Aux Kala Nisia/
In Kala Nisia


La lagune de Missolonghi/
Mesolonghi's lagoon


La lagune de Missolonghi/
Mesolonghi's lagoon


Nauplie


La plage de Pyrgos/
Pyrgos beach


Les épaves du Théatre de Phlionte/
Phliont's theater


Espadon aux halles d'Athènes/
Swordfish in Athens Market
______________________________________________

Ca, c'est moi avec
mes deux petits derniers/
Me and my two
youngest boys...
Acrocorinthos
Septembre 1996


Ca c'est madame/
This is Madam'
Korinthos
Aôut 1996


Mes 4 enfants...
à Corinthe/
The four children of the
family
Korinthos
Août 1996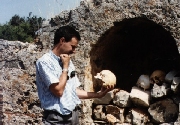 Etre ou ne pas être ?.../
To be or not to be ?...
______________________________________________

Porte ouverte
sur l'infini/
Door opened on
the infinite


Les couleurs de
Poros/
The colors of Poros


Nemee, le temple
et l'arbre mort/
The temple and
the dead tree


Delphes


Les dernières
traces des turcs/
The last marks
of the Turks


Saint Philippe,
bien sûr/of course


Cimetière à Methana/
Cemetery in Methana


Distillerie d'Ouzo/
Ouzo factory
__________________________________________

21/5/98
Vous pouvez aussi m'écrire:..

ramona.philippe@wanadoo.fr
Retour:..